Understanding the difference between real and fake pop-ups.
It's often very difficult to know if a pop-up is a genuine warning or a scam. Many of our customers have seen pop-ups like the one below and don't know what to do, they're very alarming to say the least. Have you experienced a pop-up like this?
We can help!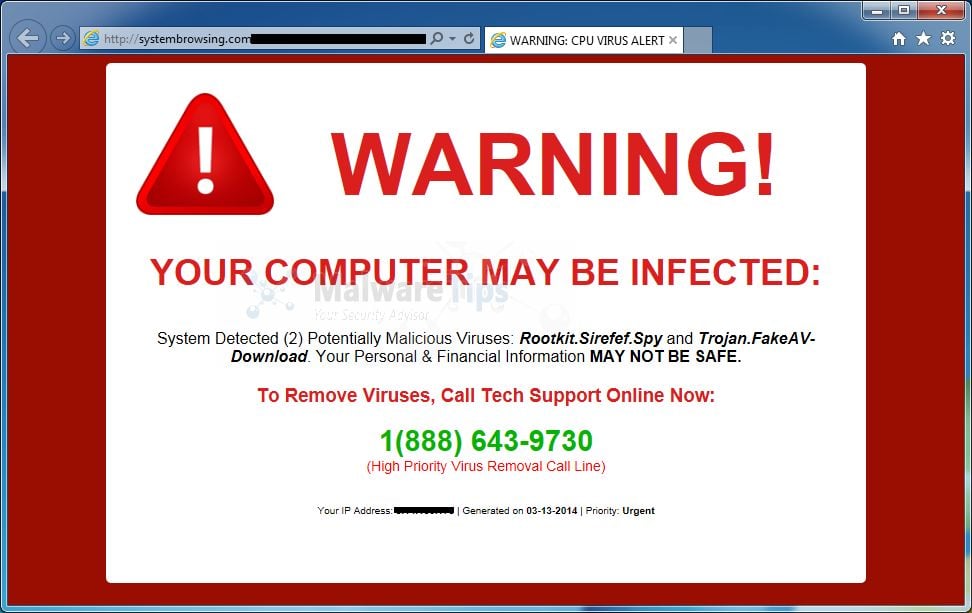 Fake pop-ups typically include phone numbers to call, reputable brand names you recognize (like Microsoft), and a threat to not turn off your device. Nine times out of ten this is NOT ransomware. It is most likely adware that could be trying to steal your personal information so you need to know how to protect yourself.
What should you do when this type of pop-up appears? Here are 3 easy steps:
Do

NOT

click on it or call the number and never give them money.

Close your browser by right clicking on the icon on your task-bar and clicking

"Close"

.

Or simply shut down your computer and restart it as a preventative measure.
Our engineers suggest these 5 steps to avoid pop-ups like this in the future:
Run a FixMeStick scan –

because FixMeStick runs while your operating system is asleep the viruses can't hide which means it is the most reliable solution.

Reset all of your browsers

-this is a common step when we troubleshoot with our customers, it clears out the junk and clutter that has accumulated.

Use a pop-up blocker

–

learn about different pop-up blockers

here

!

Use a secure network or a VPN

–

this will block others from seeing your activity online, as well as help you avoid malicious sites.

Use a trusted antivirus – this helps block pop-ups so you can get back to using your computer.  Get an exclusive discount on McAfee here because you're a FixMeStick customer. 
Our team uses McAfee because it's a one stop solution to protect all our devices – PCs, Macs, tablets and smartphones. We trust McAfee Total Protection, along with 300 million people worldwide,  for all our antivirus and privacy protection needs – you should too! As a FixMeStick customer you can benefit from this exclusive discount on McAfee Total Protection for 5 Devices!
Here are just a few of the benefits of McAfee Total Protection:
Award-winning: blocks viruses, malware, ransomware, unwanted programs and more.
Safe web browsing: warns you about risky websites and helps prevent dangerous downloads.
Free support: phone, chat or online for the life of your subscription.
Multiple devices: easily protect 5 devices from one easy-to-use web page.
Anti-theft and file protection: keep your personal files private.
Permanently delete sensitive digital files: like a paper shredder for your computer files.
Prevents your device from spreading malware and SPAM:keeps your loved ones safe.
Keeps your email safe from annoying and dangerous emails.