Unfortunately, regardless of how computer savvy you are, computer viruses are something everyone needs to be aware of. While there are many ways to protect your computer, no single solution protects against all the viruses that exist. Often viruses and malware can go undetected by antivirus and security programs. So what steps should you take? We've compiled a comprehensive guide on how you can remove viruses from your computer. Keep reading for our 6 essentials steps for a clean computer!
Not sure if your computer has a virus? Click here to learn how to tell if your computer has a virus.
1. Invest in a solid antivirus, like McAfee Total Protection
The first step is prevention. To protect yourself from most viruses we highly recommend installing antivirus software on your devices. Antivirus is designed to protect your computer from malicious software like viruses, trojans, spyware, and other malware.
At FixMeStick, we recommend using McAfee Total Protection for your antivirus needs. McAfee Total Protection is more than just antivirus software – it's peace of mind. Defend yourself and the entire family against the latest virus, malware, spyware, and ransomware attacks while staying on top of your privacy and identity.
However, inevitably viruses sneak past even the best antivirus protection so how can you remove a virus if it sneaks past your antivirus? Keep reading!
2. Disconnect your computer from the internet
In many cases, computer viruses can use your internet connection as a means of spreading themselves.
If you're aiming to remove a virus from your computer, you should first try to disconnect your computer from the internet to prevent any further damage from the virus.
To disconnect, you can turn on Airplane Mode, switch off Wi-Fi connectivity, or unplug the internet cable. In the case that the virus is blocking control of those functions, and your connection is wireless, turn off your cable modem or router.
3. Reboot your computer using safe mode
In Safe Mode, your system runs with the minimum services needed for operation. This prevents most malware from starting up and limits the damage the threat can cause. The steps of initiating safe mode are intended for more advanced users. If you're unsure, proceed to the next step.

Below are links to the official Microsoft guides on entering Safe Mode on different versions of Windows: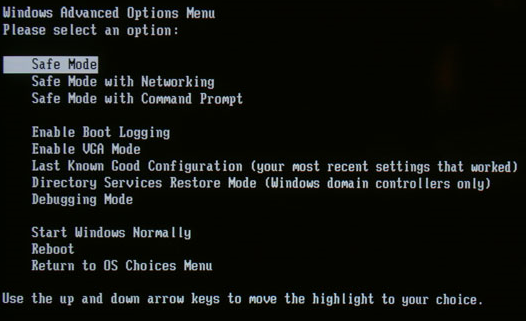 4. Delete your temporary files
One of the best ways to ensure your computer is both fast and secure is to delete any temporary files which may be harboring threats. There's a chance the virus is lurking in the Windows temporary folders or the cache of your browser!
The process is relatively straightforward, and we've included the steps below for different operating systems.
In Windows 10:
In the search box on the taskbar, type disk cleanup, and select Disk Cleanup from the list of results. Select the drive you want to clean up, and then hit OK.
Under Files to delete, select the file types to get rid of. To get a description of the file type, select it.
Hit OK to apply changes.
In Windows 8.1:
Press and hold (or right-click) Start > Control Panel > Internet Options.
Select the General tab, and then select Delete under Browsing history.
Select Delete all > Yes > OK.
In Windows 7 and Windows Vista:
Select Start > Control Panel > Network and Internet > Internet Options.
Select the General tab, and then select Delete under Browsing history.
Select Delete all > Yes > OK.
5. Run a FixMeStick Scan
Once a computer has been hit by viruses your antivirus becomes ineffective and the removal process can be a massive headache. That's where the FixMeStick comes in. The FixMeStick finds and removes infections that got past your antivirus software.
The FixMeStick is an external virus removal device. The FixMeStick reboots your computer using a system on the stick, so it's able to remove the viruses and malware that other antivirus and security programs can't detect. And because it runs externally it doesn't interfere with your antivirus software. We recommend running the FixMeStick at least once a month to keep your computer fast, clean, and safe.
The FixMeStick is the easiest and most efficient way of deep-cleaning your computer. Easily remove viruses with the FixMeStick! The FixMeStick starts at $9.95, and comes with a "Virus Removal Guarantee"! If your FixMeStick didn't remove your virus, let us know and we'll remove it manually for free.
Click here to learn more about the FixMeStick and to try it today!
6. Change your passwords
Once you've gone through a deep clean to ensure that your computer is virus-free, the next step is to update and change your existing passwords. Viruses can breach your private personal information, so we recommend starting with your main email account and then moving down the list to cover the different accounts you use.
Once your passwords have been changed, you and your computer are good to go!
How to Remove a Virus from an Apple Mac Computer
Many Mac users tend to be under the impression that their computers are virus-proof. Unfortunately, this is a misleading piece of information! While the number of viruses that target Macs is significantly smaller in comparison to PC viruses, Mac viruses still exist and they can be a pain to get rid of.
Recently, more Mac viruses have been designed to trick users into thinking they are antivirus products. If you accidentally download one of these, your computer may be infected. Some examples of Mac viruses of this type are 'MacDefender', 'MacProtector', and 'MacSecurity'.
Generally, because of Apple's security features, the process behind removing Mac viruses is pretty limited. But we've included a guide on how you can remove viruses on your Mac as well!
Quit the application or software that seems to be affected.
Go to 'Activity Monitor' and search for known Mac viruses such as 'MacDefender', 'MacProtector', or 'MacSecurity'.
If you find one of these viruses, click 'Quit Process' before quitting 'Activity Monitor'.
Go to your 'Applications' folder and drag the file into your 'Trash'.
Remember to empty the 'Trash' folder afterwards to permanently delete the virus.
What are some alternative fixes?
If you're unsure about whether or not there are lingering threats on your Mac, we always recommend running a FixMeStick scan to detect any underlying viruses that might be affecting your computer.
Plus, as a FixMeStick customer, you have our virus removal guarantee. Did you run a FixMeStick scan but still think you have a leftover virus? Let us know and we can remove it for you manually, for no extra fee!
---
Do you have any favorite tips or tricks for getting past annoying viruses? Let us know in the comments below!